What's new ?
October 2, 2012 Appears that the Philippine Mars is being retired. See the Martin Mars page.
October 13, 2012 Three photos of the nose section of Martin Mars "SHIP 8" added to the Martin Mars page. Many thanks to Rob Stevens for kindly providing the photos and permission to use them.
Ocrober 26, 2014 Added one photo of Sikorsky VS-44A , NC-41882 , c/n 4404 , Exeter , to this page. Deleted one link that is no longer there.
November 3, 2014 Removed the 2 Sikorsky S-42 Pages today. Slide Show Page also removed today.
November 4, 2014 Added Sikorsky VS-44A Exeter NC-41882 Salvage Recovery and Restoration Page to the site today.
May 30, 2017 Revised status of Grumman Mallard J35 / J-35 today.
Below: Sikorsky VS-44A NC-41882, c/n 4404 , Exeter , probable location is South America. Exeter appears to be in the colors of Skyways International Airways. Circa April 1947 - August 1947. This is likely the painted scheme Exeter was in, when it crashed August 15, 1947.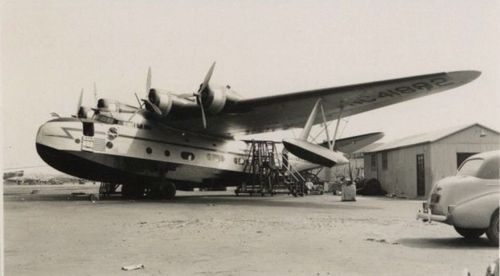 Sikorsky VS-44A , c/n 4404 , NC-41882 , Exeter . / What's probably around ?

The last VS-44A, c/n 4404, NC-41882, the Exeter, crashed on the Rio de la Plata, Montevideo, Uruguay, South America, while making a night landing on August 15, 1947. At the time, of the accident, the aircraft was carring arms. In the early 1980's, divers went to the aircraft, and recovered some of the arms from the aircraft. The aircraft was reported to be reasonably intact, with the wing broken off. One of the engines was reported to be hauled ashore. The location is reported to be near the Punta Brava Lighthouse. It is still probably there, and would probably make an excellent candidate for recovery / salvage, restoration, and static display, like its' sister ship c/n 4403 NC-41881, the Excambian, which is now on display at the New England Air Museum, Windsor Locks, Connecticut.